Direct access to ProNote via the school website.
What is ProNote ?
ProNote is a way of presenting your child's progress at the Arthur Rimbaud French School in Dar Es Salaam.
How to access ProNote?
Click this link to open the ProNote window in your browser. Then log in using the personal information the school gave you in a sealed envelope. Every member of the family will have his or her personal login details.


Teachers Webspace (Primary school)
Teachers Webspace (Secondary school)
Please note that you can select the language (top right of the page):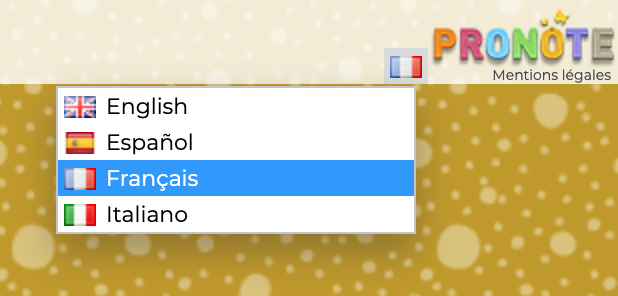 ProNote enables you securely to view your child's school progress and other related information via a personal log-in, ID., and password. Information includes timetables, school-year calendar, and marks (for Secondary only), School reports for Secondary students will be put online as soon as they are available.
If you have a problem or see errors, kindly contact our Pronote advisor, via email: cpe@frenchschooltanzania.org.
NB: If you have a question on the school curriculum, please contact the concerned teacher.
This website will be continuously updated and improved. You and your child will soon be able to view timetables, homework, as well as other useful information.
We do hope that you will like this simple way of presenting the children's and school's progress online !