We are currently hiring for these positions (local contract) :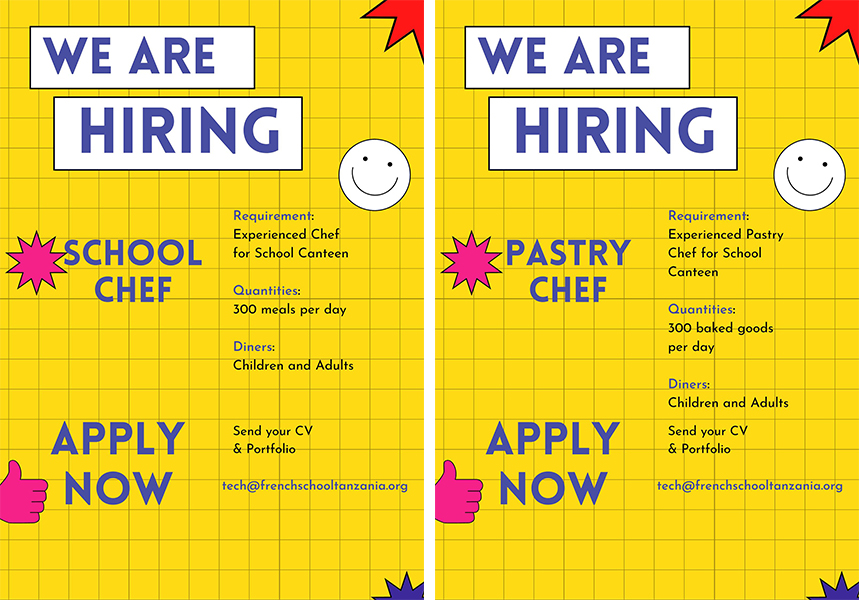 ⚠️CALL FOR TENDER⚠️ The High School is searching for a catering provider for the beginning of the school year in January 2023. The contractor will be required to provide catering for students, nursery assistants, staff (technical, administrative), teachers and special guests.
The volume of services is linked to the quality of the services provided by the contractor. For more details, contact Ivan immediately at tech@frenchschooltanzania.org. The end of the tender is November 30th, 2022.
The decision will be announced by December 16th, 2022. The selection committee will be composed of parents and teachers.
The school is also looking for replacement teachers. If you are interested, please send us your unsolicited application via the address below.
If you are interested, please send your CV, motivation letter, diplomas, training courses to recrutement@frenchschooltanzania.org.
For resident positions, please visit the following website and send your application on Wednesday, February 10th, the latest to recrutement@frenchschooltanzania.org: https://www.aefe.fr/rechercher-une-ressource-documentaire/campagne-de-recrutement-des-residents-2021-dossier-de
NB: Any application process via the "Contact" tab on our site will not receive any response from us. Only a complete file (and not just a CV) will receive an acknowledgment of receipt and will be studied with a view to possible recruitment.